Document Version: 1.0
Created: January 17, 2023
Overview
Client services are provided to Ascend Charter Schools through a Single Point of Contact (SPOC) Help Desk. The Help Desk provides Ascend Charter Schools end users with one contact for problem determination, problem source identification, and problem resolution relating to the services being provided by IT, e.g., new user installs, changes to system access/login administration, PC desktop /software/network application/network security issues and etc.
The SPOC process identifies the process of how Ascend Charter Schools end users contact Technology Services for support. After the SPOC obtains information regarding the request, they follow the request through the appropriate internal process until resolved. Through the process, it is ensured the end user is always kept abreast of updates until resolved.
Scope
The SPOC accepts questions and problems for resolution via ZenDesk. The SPOC provides coverage Monday – Friday, 7:30 a.m. to 5 p.m. Remote support/escalation starts at 7:30 a.m. and a team member isq onsite at schools from 8:30 a.m. to 5 p.m. Remote support/escalation starts at 7:30 a.m. The technology group communicates with staff and any other parties providing support on a regular basis and, should it become necessary, escalates tickets per the escalation process provided in the Help Desk Management Process Flow.
Examples of call types handled by the SPOC include but are not limited to:
Assisting with usage of hardware, software, or network capabilities.
Password reset work requests.
Providing immediate information on network or system status.
Doing immediate routine user administration such as password resets.
Accepting reports of equipment failure and initiating action to get the equipment repaired.
Objectives
To provide end-user support services to Ascend Charter Schools and Network.
To meet all Service Level Objectives (SLAs).
To make sure that all IT staff who process and resolve tickets:
Capture the ticket properly.
Route the ticket to the correct individual or group.
Resolve the ticket correctly.
Ensure correct data is captured on closure so the information is in ZenDesk as the knowledge base.
To ensure clear communications with end-users regarding expectations.
Roles and Responsibilities
System Administrator
The System Administrator is the Single Point of Contact to the End User.
The following responsibilities pertain to the SysAdmin:
Responding to the incoming request.
Gathering the appropriate information for the type of request.
Determine, filter, and categorize the request.
Provide "how-to" assistance to end-users.
Troubleshoot, diagnose and resolve problems, when possible, with Ascend Technology Team approved/issued standard hardware and software.
Assign a severity to all requests.
Note: The Help Desk should assign the appropriate severity to the ticket based on the information that can be gathered on the initial contact.
Communicate and set expectations to the end-user.
Formulate the problem report, which must include the following information:
Problem originator (person or application).
Date/time the problem occurred.
Problem topic.
Incident symptom.
Incident description.
Incident number (in most cases, this will be generated by the problem tracking system).
Initial priority.
Affected component, system, application, etc.
Customer name and phone number.
Monitor for duplicate problem records.
Monitor personal queue on a daily basis for Aged tickets, and tickets that may have been recently opened and routed to you.
Informing the customer of the status of an existing request in a timely manner or upon request
Contacting the customer for further information, as required.
Maintaining and providing information about the end user, the end user's system, and the current ticket when calls are transferred or escalated to another support level.
Update end-user information in the ZenDesk when a new employee contacts the Help Desk to request service.
Escalating tickets to the appropriate individuals.
Closing requests that are fulfilled by the Technology Team.
Help Groups
There are different Help groups to allow more targeted and faster response time. The Help groups are Technology, HR, Data, and Facilities.
Use of ZenDesk Help Ticketing System
ZenDesk automatically assigns all tickets submitted to ZenDesk a ticket number, and a receipt email is sent to the sender. By default, ZenDesk tickets are "unassigned". Level 1 or Level 2 staff first assign a ticket. The information captured during and after resolution is added to the ticket by the Assignee. Upon resolution, the ticket is closed, and ZenDesk sends an email notification that the ticket has been closed. Ticket notifications or follow-ups contain a link to the ticket in the body and a ticket number in brackets in the subject line. Example: [Ticket 90051].
Help Desk Outage / Communication Focal
The Help Desk Single Point of Contact is to internally communicate account-wide issues, critical situations, processes, software, or any updates that affect the user community. This role is also responsible for creating system status messages.
A sample email communication is provided below: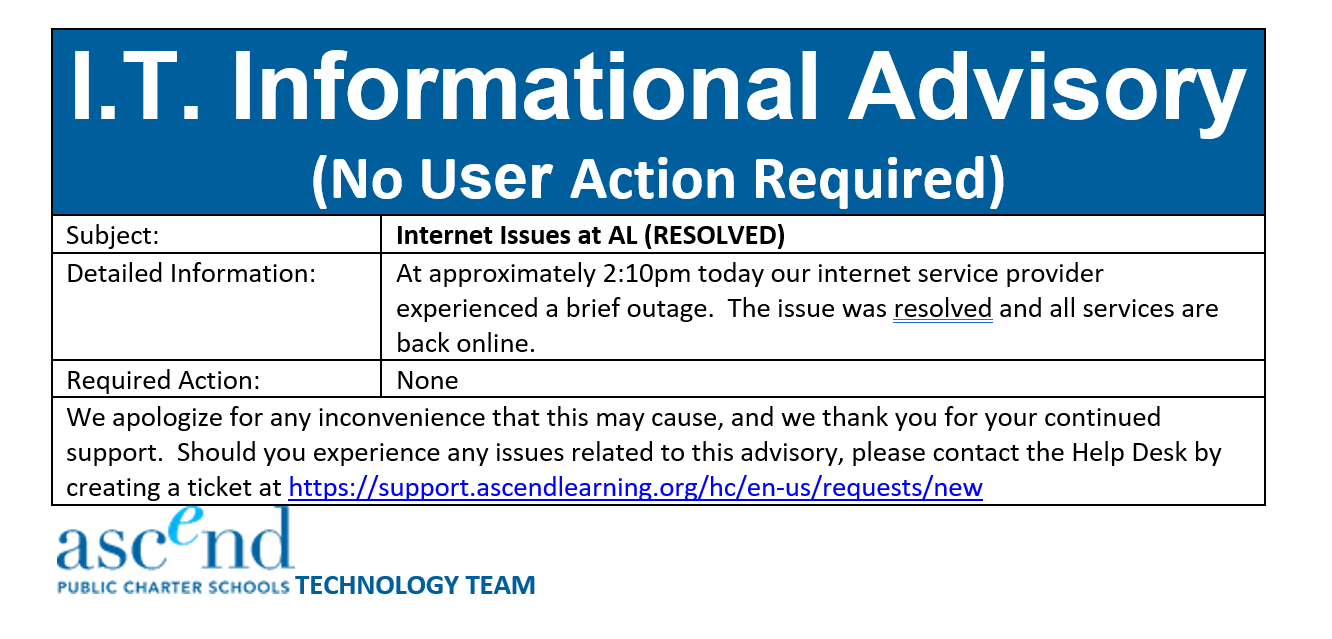 Change management process
- Users are notified of planned change in advance when possible.
- If it is a network device, it is configured and tested before deployment in production.
- Process is developed on steps to be taken, including testing, verification, and failback in case of unforeseen problems.
- Steps to be taken are put in chronological order into a checklist. In addition to steps for the change itself, a list of post-change test and Q&A steps are also listed.
- Users are reminded that the change will take place a day in advance.
- Depending on the type of change, a last-minute reminder (via email) is sent – especially to the most likely directly affected users (for example, for emergency work on internet circuits by internet service provider).
- Prior to device change, a ticket is opened with the device vendor in order to get immediate help if needed during the swap, upgrade, or setting change.
- If all is well, the device is left in production.
- If problems occur, it is escalated to the vendor for fixing, or failback is initiated.