Para ver este artículo en español, haga clic aquí.
To secure your seat, you must complete registration in our online registration system SchoolMint. This includes completing all forms and uploading your supporting documents.
For a list of required forms, see below:
Student enrollment form which includes information for guardians, emergency contacts, authorized pick-up, medical information, primary language questionnaire

School trip release, media release, record release, transportation (busing request), and residency (housing questionnaire)

forms
For a list of valid supporting documents, see below:
1. Proof of birth
Birth certificate, passport or baptism record
2. Two proofs of address
[Important please read first] Proofs of address that are not taken out of an envelope are not accepted and will be rejected. Please take the document out of the envelope and make sure that the date and your address is visible.
Both documents must match the address on your registration and be from the list below.
A lease agreement, deed or mortgage statement for the residence
A residential utility bill (gas or electric) in the resident's name issued by a utility company (e.g., National Grid or Con Edison), must be dated within the past 60 days
A bill for cable television services provided to the residence; must include the name of the parent and the address of the residence and be dated within the past 60 days
Documentation or letter on letterhead from a federal, state, or local government agency, including the IRS, the City Housing Authority, Human Resources Administration, the Administration for Children's Services (ACS), or an ACS subcontractor or the federal Office of Refugee Settlement, indicating the resident's name and address, must be dated within the past 60 days
A current property tax bill for the residence
A water bill for the residence dated within the past 90 days
Rent receipt which includes the address of the residence, must be dated within the past 60 days
State, city, or other government issued identification (including an IDNYC card), which has not expired and includes the address of residence
Income tax form for the last calendar year
Official NYS Driver's License or learner's permit which has not expired
Official payroll documentation from an employer issued within the past 60 days such as a pay stub with home address, a form submitted for tax withholding purposes or payroll receipt (a letter on the employer's letterhead is not adequate); must include home address and be dated within the past 60 days
Voter registration documents, which include the name of the parent and the address of residence
Unexpired membership documents based upon residency (e.g., neighborhood residents' association), which include the name of the parent and the address of residence
Evidence of custody of the child, including but not limited to judicial custody orders or guardianship papers documents issued within the past 60 days with name of child and address of residence
Important notes about your proofs of address:
If you are unable to provide two of the document types listed above, you may submit a residency affidavit. Click here for a copy of the affidavit form.
3. Current medical form
The NYC Department of Health & Mental Hygiene Child & Adolescent Health Examination Form CH-205. For a copy of the form, click here.
Important notes about your health form documentation:
If your health examination record does not have immunizations listed, you must also provide a list of immunizations from your doctor.

The documents below may support your health examination form but will not be accepted in place of it.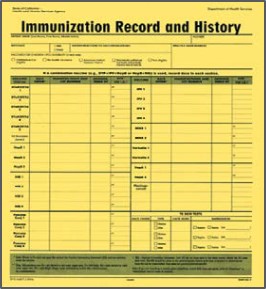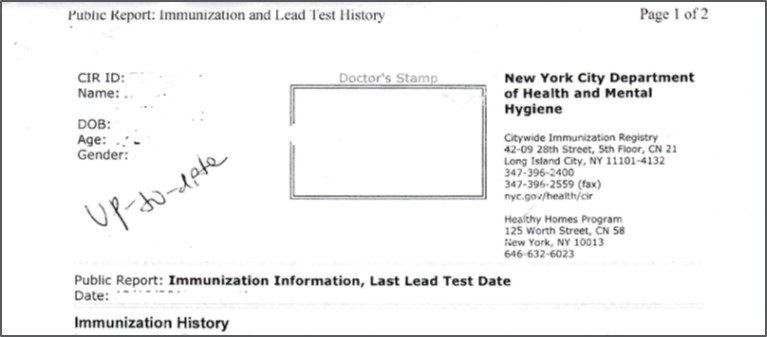 Additional paperwork to be collected by schools
Meal form or proof of lunch status (links to meal forms can be found in meal form section of the playbook)

The Home Language Survey (HLIS), which is administered to all new students at time of enrollment; qualified personnel are on-site at each school. This Is done in collaboration between the APO and DSS.
The Learning Contract is also supplied by schools to each family to sign before the school year begins.
Other forms that must be collected from families with special needs or circumstances include:
Individualized Education Plan (IEP); guidance available from Jennifer Young, Director of Student Services

504 Accommodation Plan; see Health Section

Medication Administration Form (MAF); see Health Section